There are so many reasons why people enjoy scented candles in their home. The warm and friendly glow of candlelight is a timeless pleasure, creating a soft, relaxing atmosphere that appeals to all. Combine this with the luxurious aromas of essential oils and other fragrances and you have the perfect conditions for unwinding at the end of the day.
Over the years, candle lovers concerned about the effect that burning paraffin wax or bees wax has on the environment have looked for an eco-friendly and vegan-friendly alternative. Fortunately, they found what they were looking for in soy wax.
What is soy wax?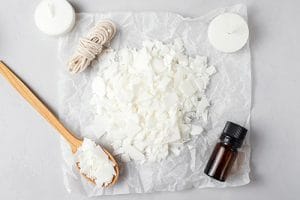 Soy wax (also known as soya wax) is a type of wax produced from the oil of refined soy beans. Unlike paraffin wax — which is made from the fossil fuel petroleum — and beeswax (taken from the hives of actual bees), soy wax is both sustainable and vegan.
Soy wax is non-toxic alternative that burns at a lower temperature, producing a cleaner flame that creates almost no soot. Renewable soy beans are much gentler on the environment than paraffin-based wax, while soy wax itself is biodegradable, ensuring future generations have one less thing to worry about.
What are soy wax candles?
Candlemakers combine soy wax, fragrances and, of course, wicks to create a variety of soy wax candles.
Candles can come in all shapes and sizes, from the classic taper candlestick you might imagine in a candelabra, through to the sturdier pillar candles and versatile tea lights. Some candles come in tins while others are designed to float on water. In fact, due to the malleable nature of wax, you can find candles in almost any design.
At Heart and Home, we produce candles in a range of shapes with a choice of scents and fragrances.
Votive Candles
Votive candles were traditionally lit when offering prayer. These candles will often be seen within small glasses of differing shapes and colours.
Heart & Home's votives come in a stylish white frosted cylindrical glass and feature white soy blend wax in a range of scents, including lavender, pink grapefruit and sandlewood.
Candles in jars
Candles have come a long way from the days when their primary use was as a 'giver of light'. Now candles come within the purview of home décor, often chosen to tie in with the surrounding colours and patterns. As such, modern candles can be found in a range of stylish jars to suit any interior.
Heart and Home house their popular candles within two beautiful yet uniquely different jar designs:
Bamboo range
Heart and Home's Bamboo range of candles come in box-shaped boutique decor glass jars. They feature the latest wooden crackling wicks within pure white biodegradable soy wax.
These beautiful and elegant candles come in a range of fragrances, including bergamot, citrus, ginger and lemon grass.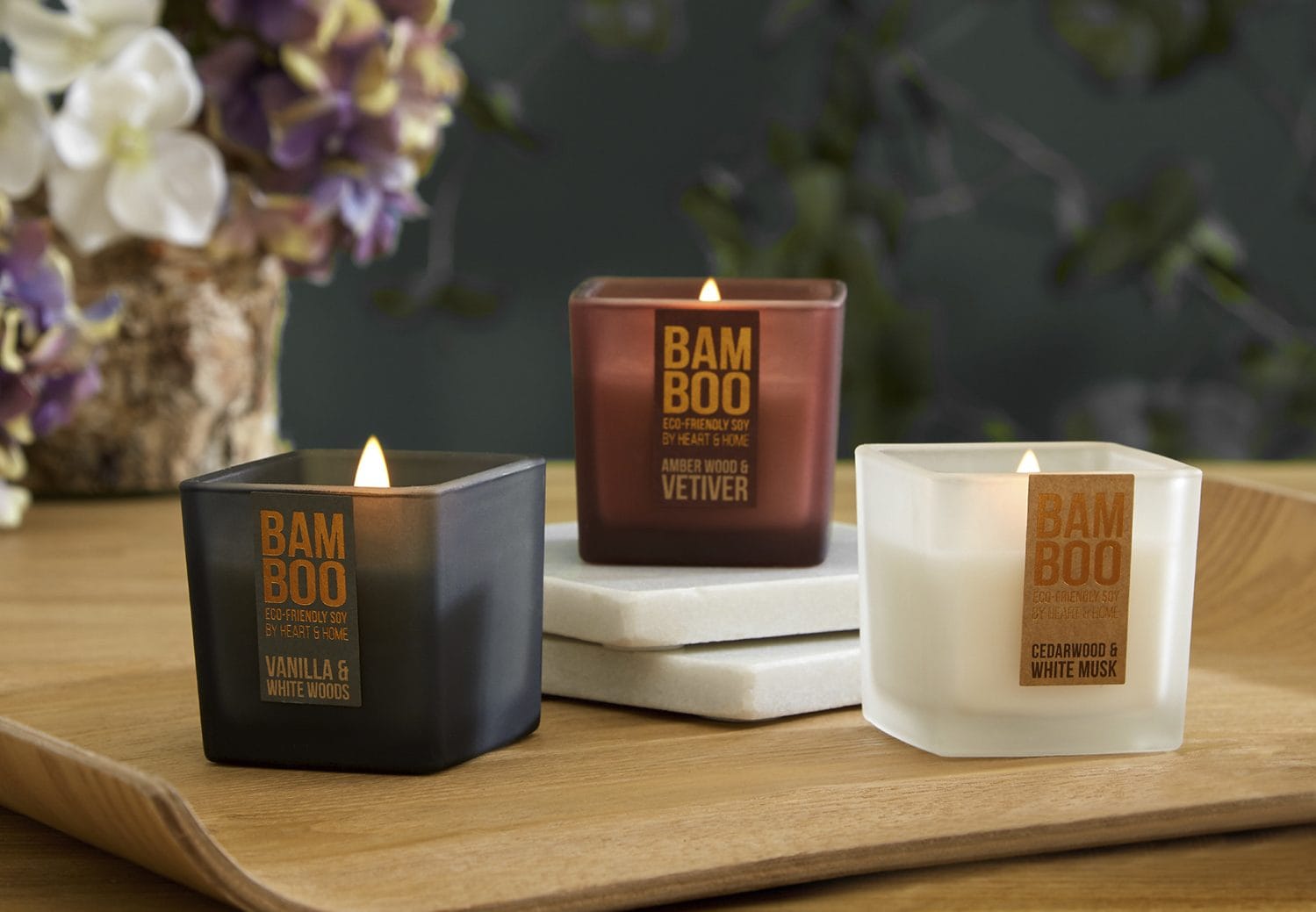 Ellipse semi-opaque coloured glass jar
Heart and Home's uniquely shaped Ellipse candles are housed within semi-opaque coloured glass jars shaped in an ellipse, or oval. Each candle feature two flames, burning on cotton wicks, sitting in natural soy wax blend. Essential oils are used to scent the candles, producing fragrances such as sweet pea, jasmine and lime.
Warmers and wax melts
Some scented wax comes without a wick. These fragrant pellets require a warming to melt the wax and release the scent.
Warmers can be made from many types of material but they usually come in the form of a ceramic device featuring a dish for the melt and an area for the heat source — most often a tea light candle.
To release the fragrance, the candle is placed in the dish and the heat source is activated. The heating element — which can also be electric — melts the wax melt, slowly releasing the scent.
Candles in tins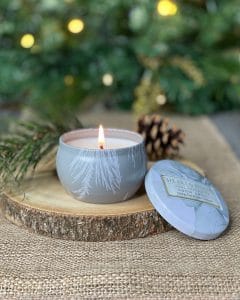 Candle tins are great is you need something a bit more robust than glass in which to house your candle. Perhaps you have children tearing around the house, or maybe the pets in your home make mantlepieces and other surfaces unsafe zones.
Whatever the reason, candle tins are practical, sturdy and still effective at filling your room with wonderful fragrances.
What's more, most come with tin lids, making them ideal for traveling, whether you are camping, glamping, or heading to a holiday cottage.
Scented candles and essential oil
Although candles are a visual treat, it is not the main reason why most people enjoy them in their homes. Scented soy wax candles are able to release a variety of fragrances to suit any mood.
Scented candles derive their fragrance from the essential oils used in their making. These fragrances are combined with the wax during the candle-making process at just the right strengths and proportions to create the perfect balance of scents. The fragrances are then released when the wax is heated.
Essentials oils are used as fragrance in most scented candles. The base for these oils is collected from actual plants, which are processed and reduced until only a relatively pure compound is left. This is often mixed with carrier 'vegetable' oils such as olive oil or coconut oil to create the final product.
At Heart and Home, we use many different fragrances to scent our candles. The table below showcases a small flavour of the many fragrances we offer.
| | | |
| --- | --- | --- |
| Scent | Range | Candle name |
| Aloe | Bamboo | Bamboo & Ginger Lily |
| Apple | Votive | Sweet Black Cherries |
| Bergamot | Votive | Guardian Angel |
| Cinnamon | Tin | Home for Christmas |
| Cinnamon bark | Bamboo | Crackling Wood Fire |
| Citrus | Votive | River Rock |
| Clean musk | Votive | Cashmere |
| Clove | Tin | Home for Christmas |
| Geranium | Bamboo | Oud Wood & Geranium |
| Lavender | Votive | Lavender and Sage |
| Lemon Grass | Bamboo | Bamboo & Ginger Lily |
| Lime | Ellipse | Citrus Crush |
| Spiced sandalwood | Votive | Sandalwood & Vanilla |
| Sweet mandarin | Tin | Home for Christmas |
| Sweet musk | Votive | Guardian Angel |
| Sweet Pea | Votive | Sweet Pea |
| White pepper | Ellipse | River Rock |
| Ylang ylang | Votive | Simply Spa |
How much are soy wax candles?
In recent years there has been a move away from paraffin-based wax towards candles made from more stainable, eco-friendly material. Since paraffin is a biproduct of oil industry, it is readily available and the cheapest of the waxes. Some soy candles can be slightly more expensive due to the refining process required to extract the wax from the soya bean. However, soy wax is significantly cheaper than beeswax and also less expensive than most other plant-derived waxes.
Below is a table listing the standard prices for our most popular products:
Single Units
| | |
| --- | --- |
| Candle range | Price |
| 2 Wick Ellipse | £12.99 |
| Bamboo (large) | £14.99 |
| Bamboo (small) | £7.99 |
| Votives | £2.99 |
| Tin Candles | £5.99 |
Gift Sets
| | |
| --- | --- |
| Candle set | Price |
| 2 Small Bamboo Candles | £13.99 |
| 3 x Mini Candle Gift Set | £9.99 |
| Mini Candle & Diffuser | £11.99 |
| Small Bamboo Candle & Diffuser Gift Set | £12.99 |
| Small Jar & Mini Diffuser | £12.99 |
| Wax Melt Gift Set | £9.99 |
| Warmer & Wax Melt | £9.09 |
| Warmer & Wax Melt Gift set | £12.99 |
| Special Offer! Twin Wick Carousel Gift Set | £9.99 |
What is the best type of candle to use?
Soy wax candles hold a number of benefits over other candles on the market.
Sustainability of soy wax
Soy candles are more sustainable than those made from paraffin-based wax because the soy beans used to make the wax can be replanted indefinitely. Paraffin-based candles are produced by refining crude oil, which is a finite resource. And unlike beeswax, no animal products are involved in the making of soy wax.
Soy wax burn time
Soy wax has a lower melting point that paraffin wax. This produces a flame that is cool white in nature. The low melting point also means that soy wax candles burn up to 50% longer that paraffin candles of an equivalent weight.
Are soy wax candles safe?
Studies have shown that soy wax produces considerably less soot than paraffin wax. It also produces fewer potentially harmful organic volatiles.
When burning a candle, please be aware of the potential dangers that come with an open flame. Do not place candles near combustible material and avoid leaving an open flame burning unattended.